Ontario is a vast and diverse province with numerous attractions and destinations suited for exploring for any family. We are going to explore some of the top Ontario family travel destinations in this post.
The total area of the province of Ontario, Canada, is approximately 1,076,395 square kilometers (415,598 square miles). This makes Ontario the second-largest province in Canada by area, after Quebec. There is a lot of space for families to roam and spread out. Ontario's large size contributes to its diverse landscapes, which include cities, forests, lakes, and natural attractions. This makes Ontario a popular destination for family travelers seeking various experiences.
Ontario boasts a diverse range of landscapes, from vibrant cities like Toronto to vast forests in the north of the province, thousands of lakes, and scenic natural wonders like Niagara Falls or the hundreds of other waterfalls in the province. This diversity offers a wide array of outdoor activities and opportunities for exploration.Ontario is home to four of the five Great Lakes of North America (Lake Superior, Lake Huron, Lake Erie, and Lake Ontario).
Also, Ontario has a passionate sports culture, with ice hockey being a central part of the province's identity. The Toronto Maple Leafs, Toronto Blue Jays, Toronto Argonauts, Toronto FC and the Toronto Raptors are prominent sports teams that attract a loyal fan base.
Top Family Travel Destinations in Ontario
These are just a few aspects that make Ontario stand out, and there are many more experiences and features that make the province a unique and exciting destination for travellers and residents alike.
Here are some of the top family travel destinations in Ontario:
Toronto, Ontario
The Greater Toronto area can be a tremendously fun place to get together with your friends and family for exciting activities. Ontario's capital city is a bustling metropolis with a variety of family-friendly activities, including the Royal Ontario Museum, Ripley's Aquarium of Canada, the Toronto Zoo, and the Ontario Science Centre.
Toronto is home to several world-class museums that cater to families. The Royal Ontario Museum (ROM) features fascinating exhibits on natural history and cultural artifacts. The Ontario Science Centre offers interactive science exhibits and hands-on activities for kids of all ages. Ripley's Aquarium of Canada is an underwater wonderland, showcasing marine life from various regions. Families can walk through a glass tunnel surrounded by sharks and enjoy interactive exhibits.
Visiting the iconic CN Tower is a must for families. Take the elevator to the observation deck for breathtaking views of the city and Lake Ontario. For something a little quieter, a short ferry ride from downtown Toronto, the Toronto Islands offer a peaceful escape with beaches, parks, and bike rentals or High Park is a massive urban green space with playgrounds, picnic areas, a zoo, and hiking trails, which makes for a perfect day of family fun and relaxation.
While Toronto can be an incredible expensive city to experience,, there are a plethora of inexpensive and free activities to do. Check out our article here Free Things To Do In Toronto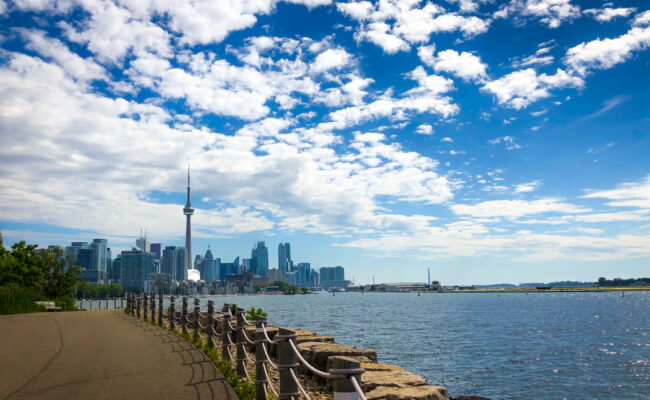 Niagara Falls, Ontario
One of the most famous natural wonders in the world, Niagara Falls, Ontario is a must-visit destination for any family. This is a once in a lifetime trip for those who can make the trek.
You can enjoy the mesmerizing views of the falls from various vantage points, take a boat tour to get up close to the falls, and explore the nearby Clifton Hill entertainment district. This bustling entertainment district is packed with family-friendly attractions, including arcades, mini-golf courses, wax museums, haunted houses, and more.
Other family favourite activities include Bird Kingdom, the largest free-flying indoor aviary in the world, taking a cable car ride that offers spectacular views of the Niagara Whirlpool and the surrounding gorge on the Whirlpool Aero Car and visiting the Floral Clock to admire the intricate design which features a face made of colorful flowers and is a short drive from the falls.
That isn't even remotely everything that can be done in Niagara Falls. There is the Zipline to the Falls for adventurous family members as well as the Wild Water Walk. You can read more here on our sister-site, KathrynAnywhere, and/or check out our instagram reel below:
Ottawa, Ontario
Ottawa, the capital city of Canada, is a fantastic destination for family travel due to its unique blend of history, culture, and family-friendly attractions. Here are some reasons why Ottawa is great for family travel:
Ottawa is home to numerous museums and educational institutions that offer enriching experiences for children and adults alike. The Canadian Museum of History, the Canadian Museum of Nature, the Canada Aviation and Space Museum, and the Canada Science and Technology Museum are just a few of the places where families can learn about Canada's history, culture, and scientific achievements. The Children's Museum at the Canadian Museum of History and the Children's Science Garden at the Canada Agriculture and Food Museum are specially designed to engage and entertain young visitors.
You can watch the Changing of the Guard ceremony at Parliament Hill and explore the Parliament Buildings. This is a great way to introduce kids to the country's political heritage and institutions. In the summer, families can enjoy boat rides or rent paddleboats on the iconic Rideau Canal, which transforms into the world's longest ice skating rink during the winter, offering a memorable and unique experience. Ottawa offers a variety of family-friendly hotels and accommodations with amenities catering to the needs of families, such as swimming pools, game rooms, and play areas.All of these reasons make Ottawa a must see and do Ontario travel destination for families. Read more about Ottawa on their tourism site here to be inspired!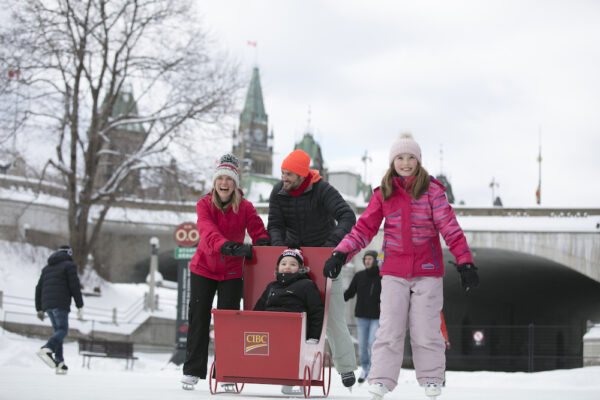 Photographed for Don Masters of Media Plus, Ottawa Tourism, 20170216. Photo/David Jackson
Thousand Islands, Ontario
Located on the border between Canada and the United States, the 1000 Islands region boasts picturesque islands and waterways, making it a great destination for boat tours and exploring charming towns. This is an excellent destination for family travel, offering a combination of natural beauty, outdoor activities, and family-friendly attractions. 
The highlight of the 1000 Islands is the boat tours that allow families to explore the picturesque islands, rocky shoals, and historic castles. Tour boats provide a safe and enjoyable way to experience the beauty of the St. Lawrence River and its many islands. But don't stop there – by air – a helicopter ride over the 1,800 + islands of varying size, shape and topography. Many of these islands are uninhabited and remain in their natural state, while others have been developed for residential or recreational purposes.
The region features several parks and beaches along the St. Lawrence River, providing opportunities for picnics, swimming, and family fun by the water. Families can engage in a variety of outdoor activities, including fishing, kayaking, paddleboarding, and hiking in the region's parks and nature reserves. 
Check out the blog post over on KathrynAnywhere for more 1000 Islands travel inspiration.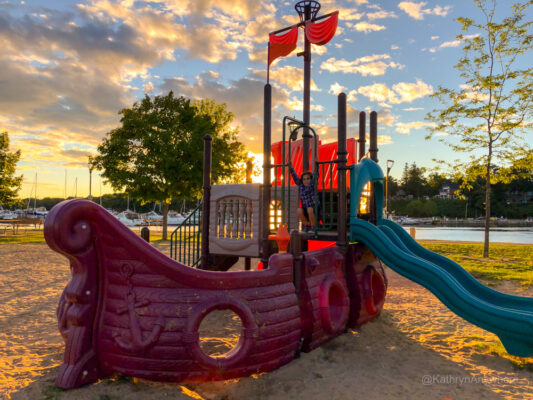 Bruce Peninsula, Ontario
The Bruce Peninsula, located in Southwestern Ontario, is a popular and remarkable destination for families seeking outdoor adventures, natural beauty, and educational experiences.  The show stopper of the region, Bruce Peninsula National Park,  This park is famous for the beautiful Bruce Trail and the unique rock formations of the Grotto. It's a perfect destination for adventurous families. It offers stunning landscapes, including the iconic Grotto, which is a picturesque cave with clear turquoise waters. Families can hike various trails, enjoy picnics, and swim in the park's beautiful lakes. Please note – Not everyone can get into the grotto as it is not accessible by those with mobility needs or strollers and requires reservations well in advance (more information available here).
Fathom Five National Marine Park, a marine park located adjacent to Bruce Peninsula National Park, is home to several shipwrecks and offers excellent opportunities for snorkelling and scuba diving, providing a unique underwater adventure for older kids and teens.
The charming harbour town of Tobermory serves as the gateway to the Bruce Peninsula and offers family-friendly attractions such as boat tours to Flowerpot Island and the Big Tub Lighthouse. Families can spend a relaxing day at Singing Sands Beach, where the sand emits a musical sound when you walk on it, creating a unique and fun experience for kids.
Read more about Tobermory activities with your family here.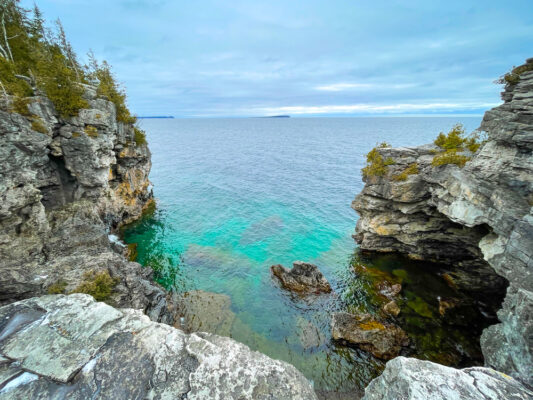 Thunder Bay, Ontario
Thunder Bay, located in Northern Ontario, offers a variety of family-friendly activities, a mecca of outdoor experiences and attractions that are perfect for travellers of all ages. Just outside Thunder Bay, you can find Sleeping Giant, Ouimet Canyon and Kakabekka Falls Provincial Parks that offer excellent opportunities for family-friendly hiking and exploring. The unique rock formations of the Sleeping Giant are a must-see. Ouiment Canyon is spectactular and Kakabekka Falls is the second highest waterfalls in Ontario after Niagara Falls
You can step back in time at Fort William Historical Park, a living history site, where kids can experience the fur trade era through interactive demonstrations, workshops, and guided tours. 
Be sure to visit the Terry Fox Monument and Lookout dedicated to the inspiring Canadian hero, and enjoy the panoramic views of Thunder Bay from the nearby lookout. It's a great spot for a family hike or picnic. Located on the waterfront, Prince Arthur's Landing features a skate park, splash pad, and scenic walking trails along the shore. It's an ideal spot for family outings and picnics.
Read all about Thunder Bay and the best Thunder Bay Outdoor Activities here.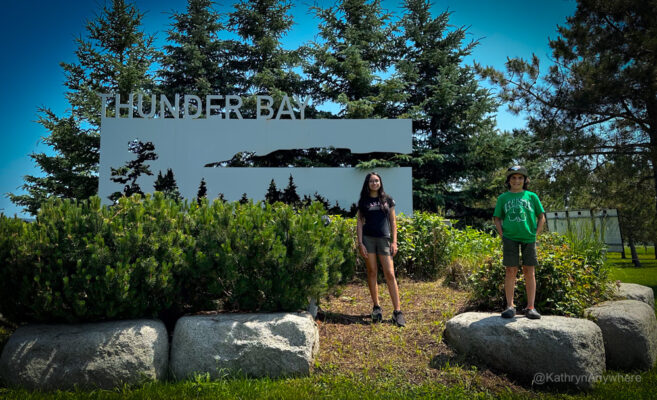 Sudbury, Ontario
Sudbury, the gateway to Northern Ontario, can be a great destination for family travel, offering a mix of outdoor activities, cultural experiences, and educational opportunities. While Sudbury might not have the same level of tourist traffic as larger cities, its natural beauty, educational attractions, and family-friendly amenities make it a worthwhile destination for families looking to experience the unique charm of Northern Ontario. 
Sudbury has beautiful lakes and parks, such as Lake Ramsey, Kivi Park and Bell Park, where families can enjoy picnics, walking trails, playgrounds, paddling and beach areas. Kids of all ages will love visiting Science North, The Big Nickel, Dynamic Earth.  
Sudbury hosts various family-friendly festivals and events throughout the year, such as the Sudbury Children's Festival, providing entertainment and activities for kids.
Be sure to read more about fun places in Sudbury to visit with kids here.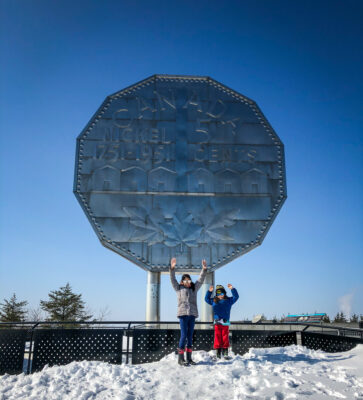 Hopefully you are inspired to get out and see some of the top Ontario family travel destinations and what they have to offer. Ontario's population is incredibly diverse, with people from various cultural backgrounds and ethnicities. This multiculturalism is reflected in the province's food, arts, festivals, and traditions. 
Always remember to check for the latest travel information and any updates on festivals, attractions, events, or travel restrictions before planning your trip.